WiZ Luminaire Mobile Portable Light review: a smart lantern wherever you go
[ad_1]

Whether it's smart bulbs for your ceilings, connected strips for your cabinets or customizable light-up patterns and shapes for your walls, lighting has become by far the most successful area for smart home adoption. But while our indoor rooms are well-lit by connected devices, it's not quite the same story for portable or outdoor lighting.
Looking to add a connected glow to your next camping trip is the WiZ Luminaire Mobile Portable Light. Made by a subsidiary of Signify (the same company responsible for the Philips Hue brand), it's a fun and reliable lantern-like light for brightening up a corner, inside or out. It's not incredibly bright, and it's not well integrated with Apple Home, but it's hard not to be won over by its charming design and simple manual controls.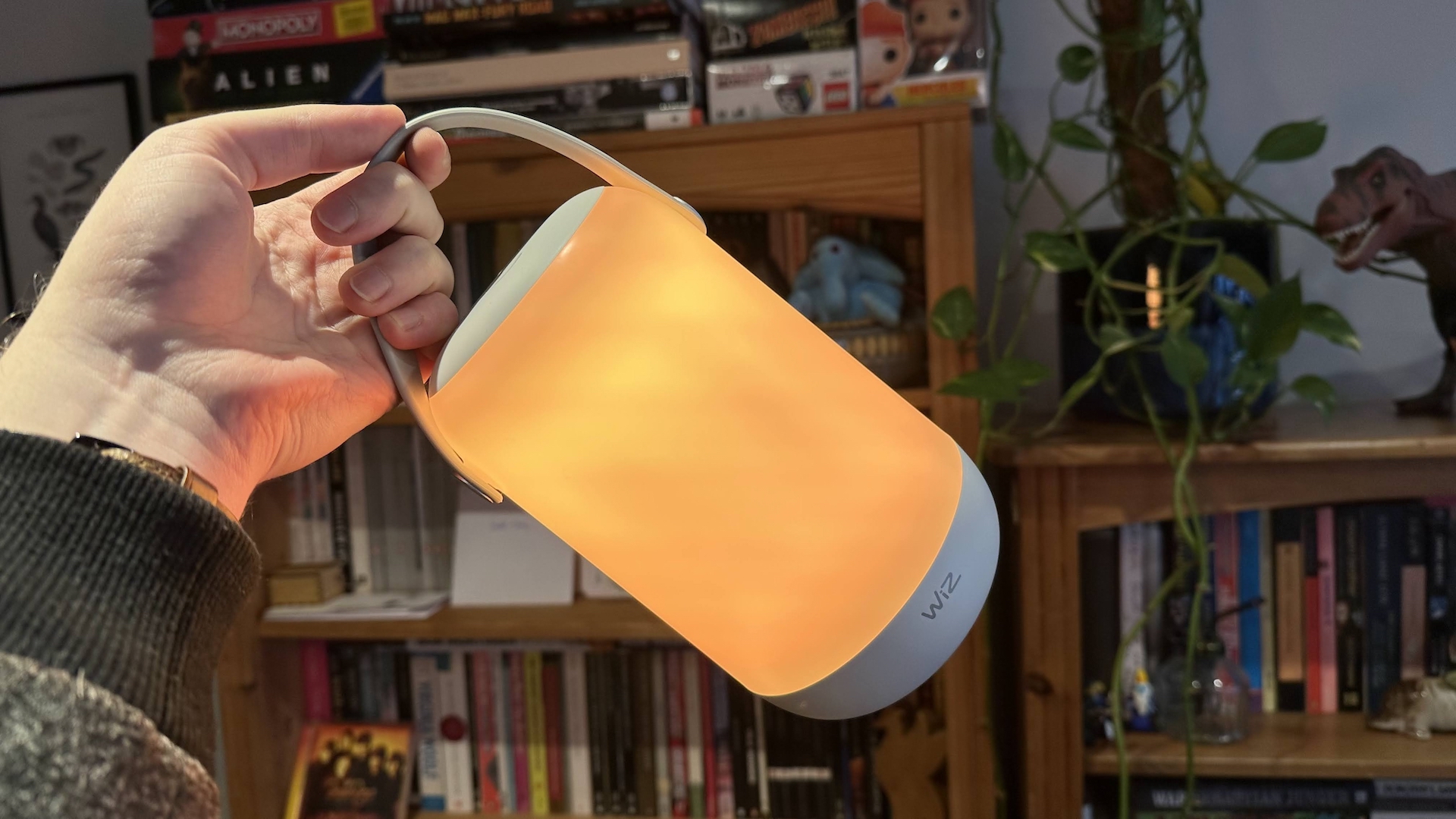 WiZ Luminaire Mobile Portable Light: Price and availability
The WiZ Luminaire Mobile Portable Light is available now, priced at $89.99 / £79.99. Though there are few in the way of comparable products to compare that pricing against, that feels fair, given the flexibility the WiZ Luminaire offers. The closest similar device would be the Philips Hue Go, which comes in at the same $89.99.
WiZ Luminaire Mobile Portable Light: What's good?
With its top-mounted swinging handle, the WiZ Luminaire Mobile Portable Light feels like a lantern built for modern times — you'd be the envy of the graveyard walking among the stones with this jazzy lamp at your side! Roughly cylindrical (though thickening at the base), it stands 19.3 cm tall and is about 11.6cm wide at its widest point. White plastic casing sits on the bottom and top of the WiZ Luminaire, with its two colored LED light segments (arranged one above the other) sitting behind a semi-transparent, frosted plastic sheet.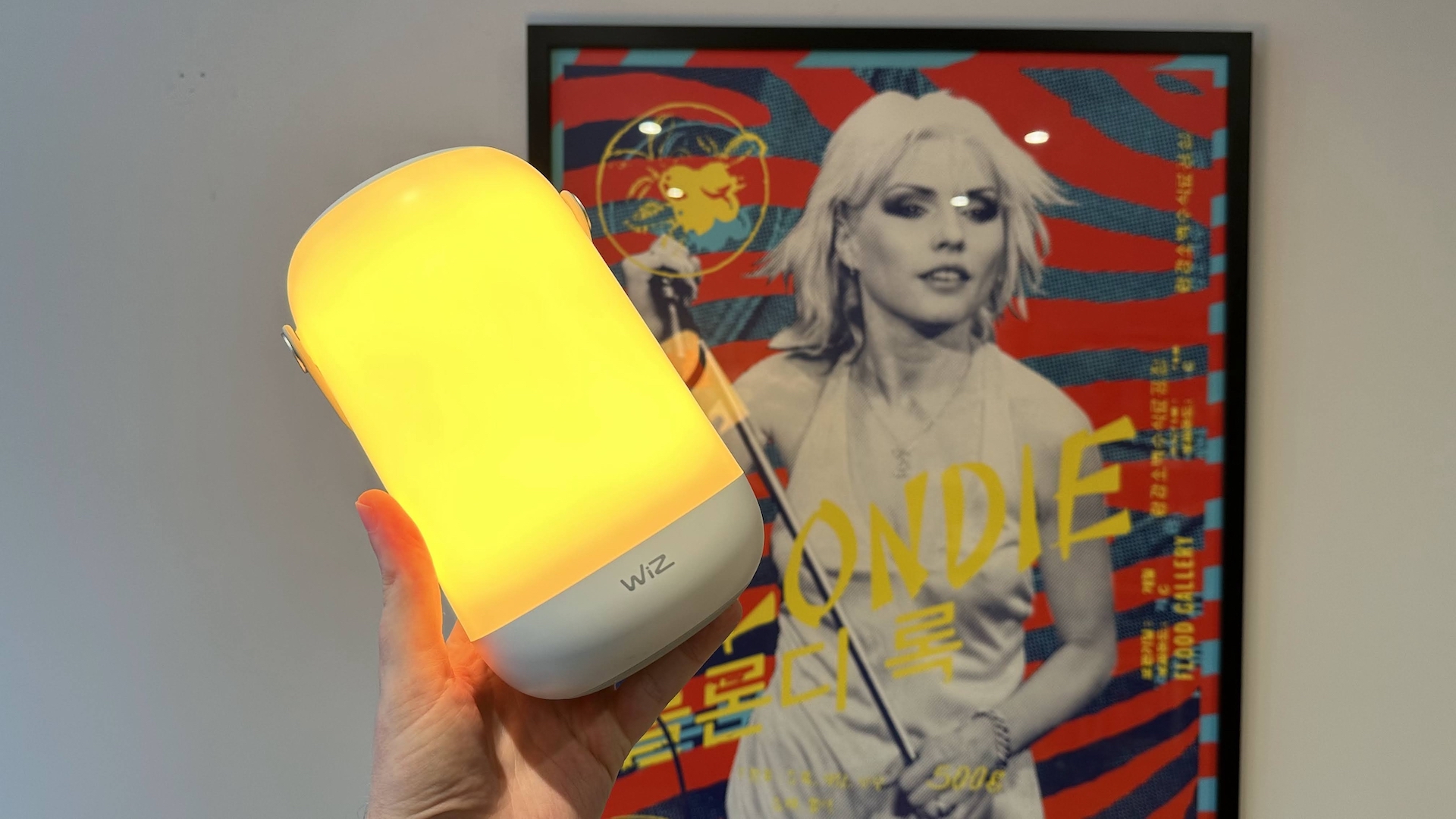 It makes for, as the name suggests, a wonderfully portable light. At just 649g in weight and with around a 10-hour battery (dependent on brightness) charged over USB-C at its base, I can't imagine going camping now without it. Though it's a smart light and many of its features are dependent on its app (we'll get to that shortly), physical touch controls on the top surface make it easy to use. There's a touch-sensitive slider for brightness, a sleep/wake button, and a button to switch between four preset scenes of your choosing, selected with the app.
A power-down switch is on the underside of the WiZ Luminaire Mobile Portable Light, which is handy for preserving battery life, turning off the lamp completely. But as the lamp also works when connected to the mains, I tended to leave it switched on at all times even if its lighting was set to off so that my in-the-home smart assistant could activate it as required via voice commands, and its battery was topped up when I wanted to move about with it.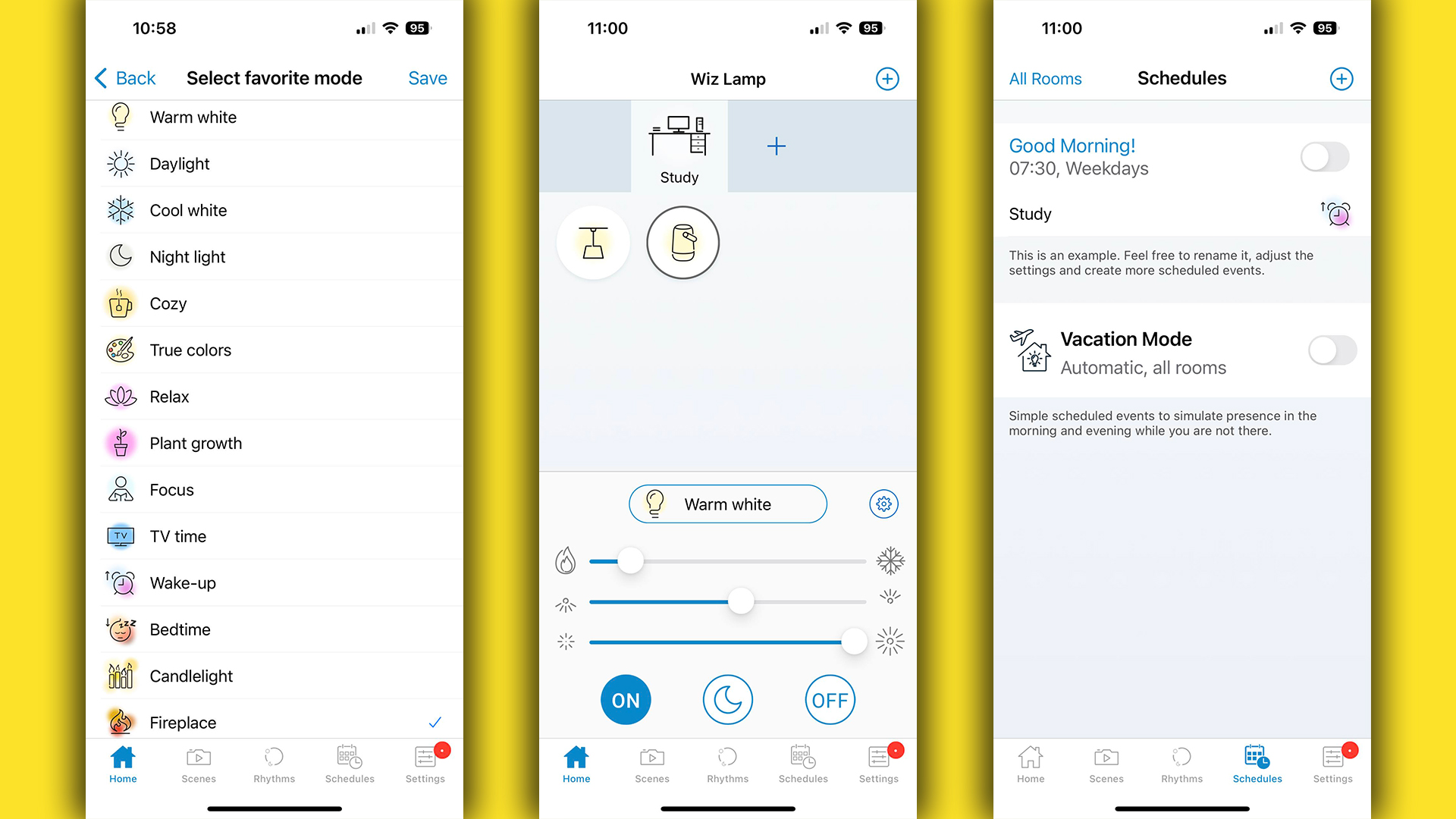 The WiZ Luminaire Mobile Portable Light connects to its accompanying iOS and Android app over Bluetooth or Wi-Fi, with the WiZ app letting you do everything from add the lamp to room scenes and automated multi-device commands, change its colors and brightness, and even set wake-up timers based on Circadian Rhythms — handy for those that are struggling to get into good sleeping habits. The Bluetooth connectivity means that you'll be able to access these settings even if you're away from your home Wi-Fi network.
When lit up, the WiZ Luminaire Mobile Portable Light looks amazing. Though it's not particularly bright, its dynamic settings really shine. Settings like 'Fireplace' or 'Candlelight' glow and flicker appropriately, animated in a relaxing way (though you can change the speed and brightness of even these dynamic scenes in the app, too). Being able to subtly change color temperature as well as running through as many as 16 million color variations really lets you play with the exact ambiance you'd like for a given moment, and save it for posterity in the app.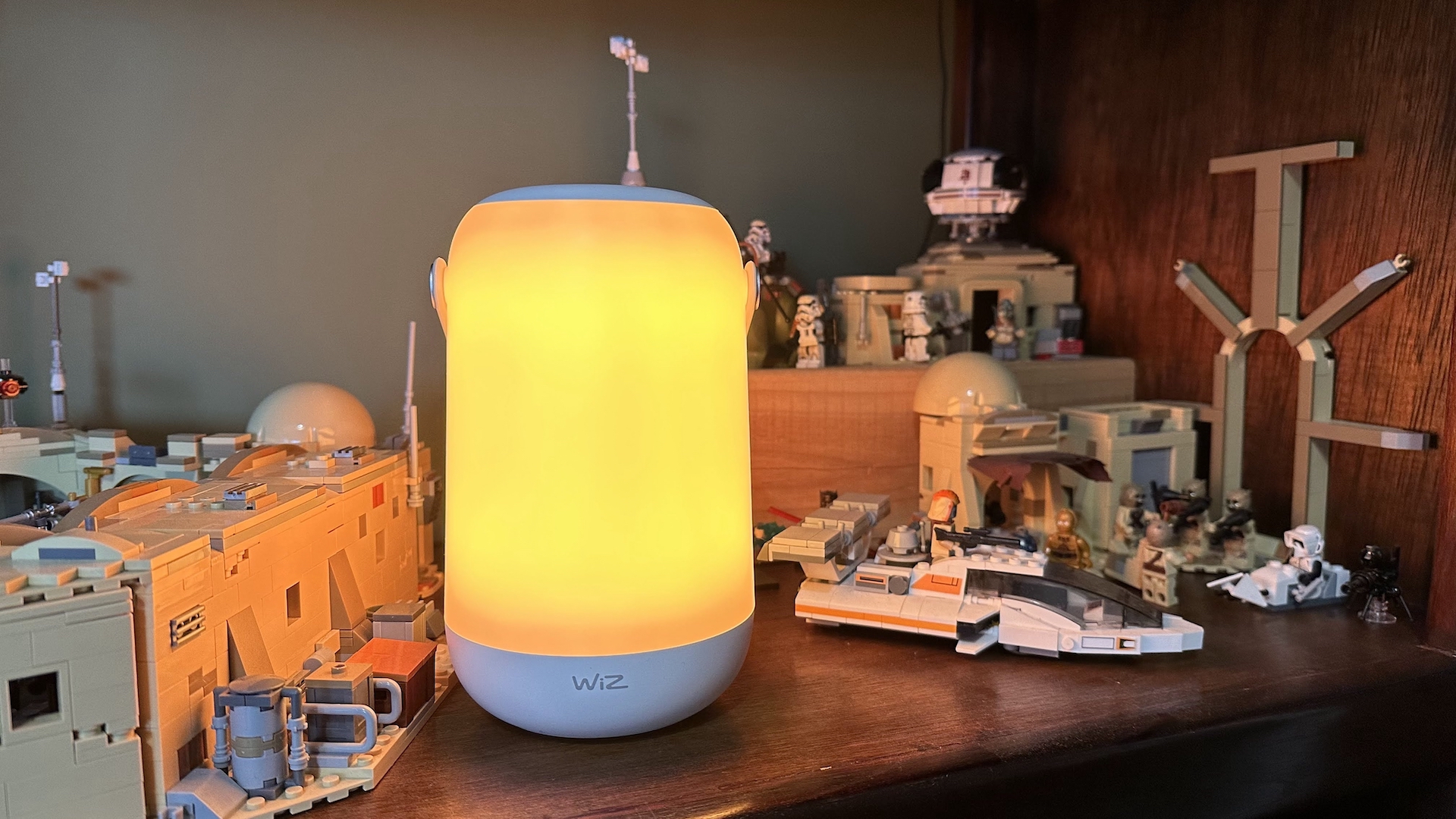 And, with a 25,000-hour lamp life, you should be confident in getting a few years' worth of daily use out of the WiZ Luminaire Mobile Portable Light. Note however that there doesn't appear to be a way to open up the lamp to replace a dead bulb should that eventuality occur.
WiZ Luminaire Mobile Portable Light: What's not so good?
Frustratingly, while Amazon Alexa and Google Assistant are supported by the WiZ Luminaire Mobile Portable Light, Apple's Home app and HomeKit smart home system are not. That's not to say it won't work with Apple devices — it's easy to get going with its app on iPhone and iPad, and to set up Siri Shortcuts that work with the light. But it will limit its integration with a smart home setup to take advantage of Apple's standards. Hopefully, this is the sort of oversight that will become a thing of the past once the Matter smart home standard takes root.
If you're looking for this smart light to be a primary light source for anything bigger than a reading nook or a camp tent, you're likely to be disappointed, too. Though its ambiance-building settings are great, its 400 lumens max brightness is best suited for mood lighting rather than working by.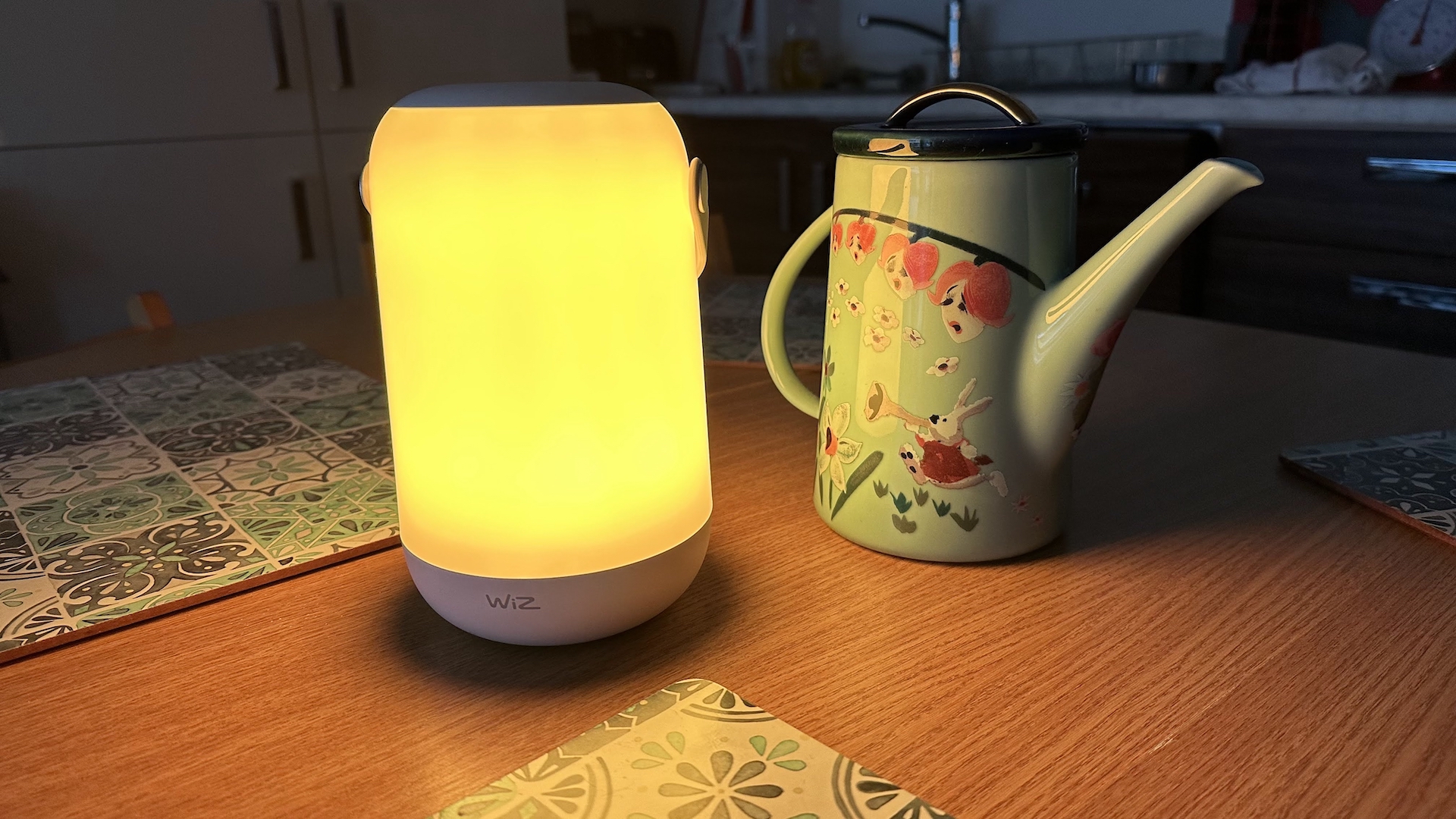 It's also a shame that, despite there being two separate color zones in the lamp, these can't be manually configured separately. Instead, to get the two color zones to contrast, you'll have to rely on the WiZ app's presets. The app is generally a little cluttered and confusing — some settings don't make themselves immediately apparent, compared to stablemate Philip Hue's intuitive design at least.
And while the WiZ Luminaire Mobile Portable Light's handle and battery makes it supremely portable, this isn't a waterproof device, either. So while you may be tempted to take it out into the wilds, make sure you're keeping it dry at all times.
WiZ Luminaire Mobile Portable Light: Competition
There are few other mobile smart lights we'd readily recommend, making little competition for the WiZ Luminaire Mobile Portable Light. However, the small Philips Hue Go lamps offer similar functionality and similarly solid performance to the WiZ Luminaire. Made by Philips, part of the same Signify parent group as WiZ, it's similarly priced, with smart connected color-changing options, scene control, and portability thanks to its own built-in battery. However, its design is intended for more static positioning, best suited to moving from one tabletop or desk to another, while the WiZ Luminaire Mobile Portable Light's lantern-like handle makes it better suited for outdoor pursuits.
WiZ Luminaire Mobile Portable Light: Should you buy it?
Buy it if…
You want a smart light to take on the go with you
You want a highly-customizable lamp that can be easily placed anywhere
You're happy working with Siri Shortcuts, or an Alexa or Google Home smart home interface
Don't buy it if…
You need a light to work by
Your smart lights must integrate with Apple Home and HomeKit standards
You only need a smart light for a fixed location — if so brighter, cheaper options are out there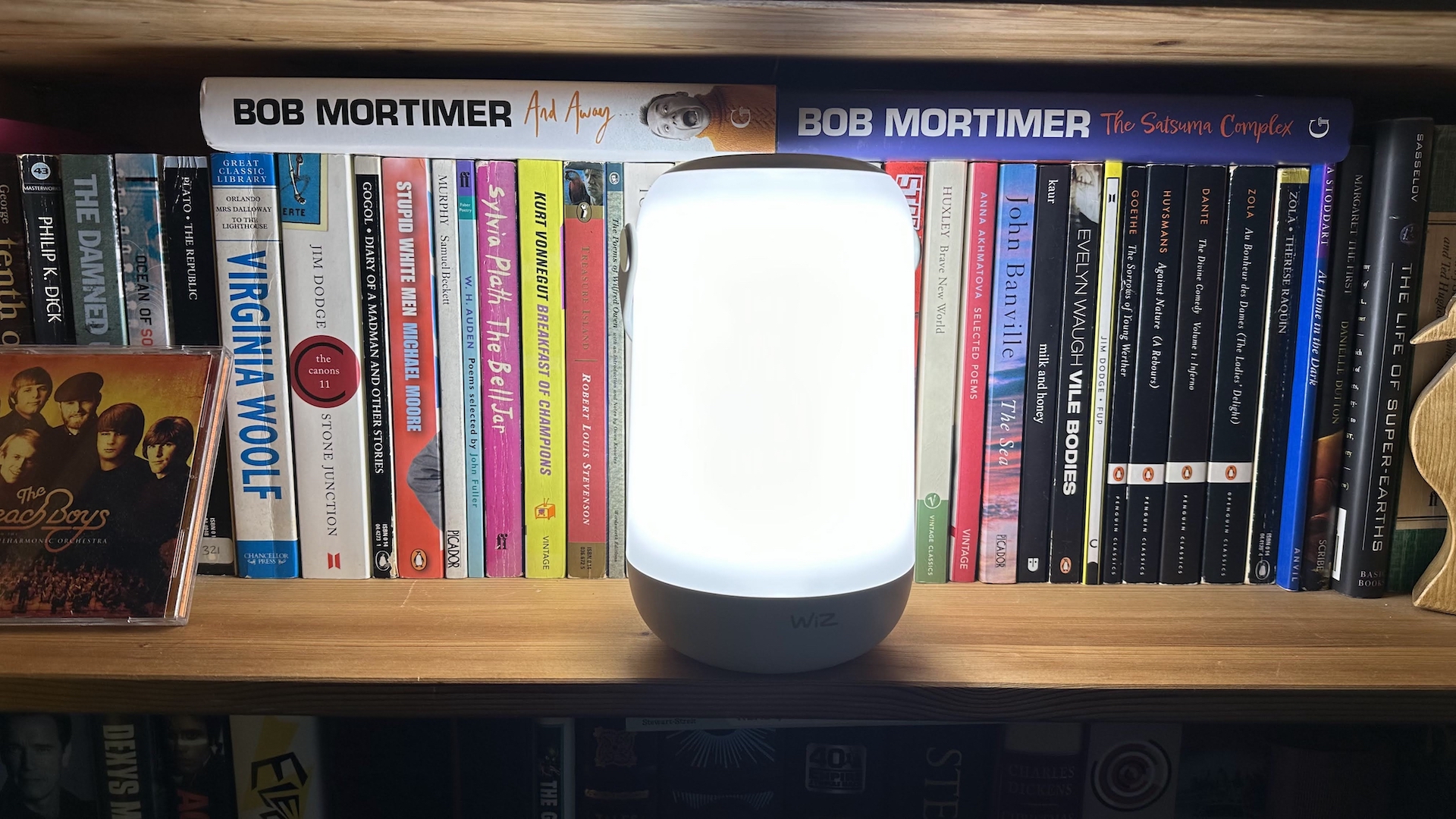 WiZ Luminaire Mobile Portable Light: Verdict
While its lack of full-on HomeKit functionality is always going to irk Apple aficionados like ourselves here at iMore, it's hard not to be won over by the WiZ Luminaire Mobile Portable Light. 
Its portability makes it a highly versatile smart light, while its app connectivity makes it easy to customize and integrate within (most) smart home setups. A little work on the readability of its app, and fine-tuned controls for individual settings for its dual lighting array and it'd be nearly perfect. Even without those, it's easy to recommend for anyone that wants to put a fun, dynamic glow into a corner of their home or campsite.
---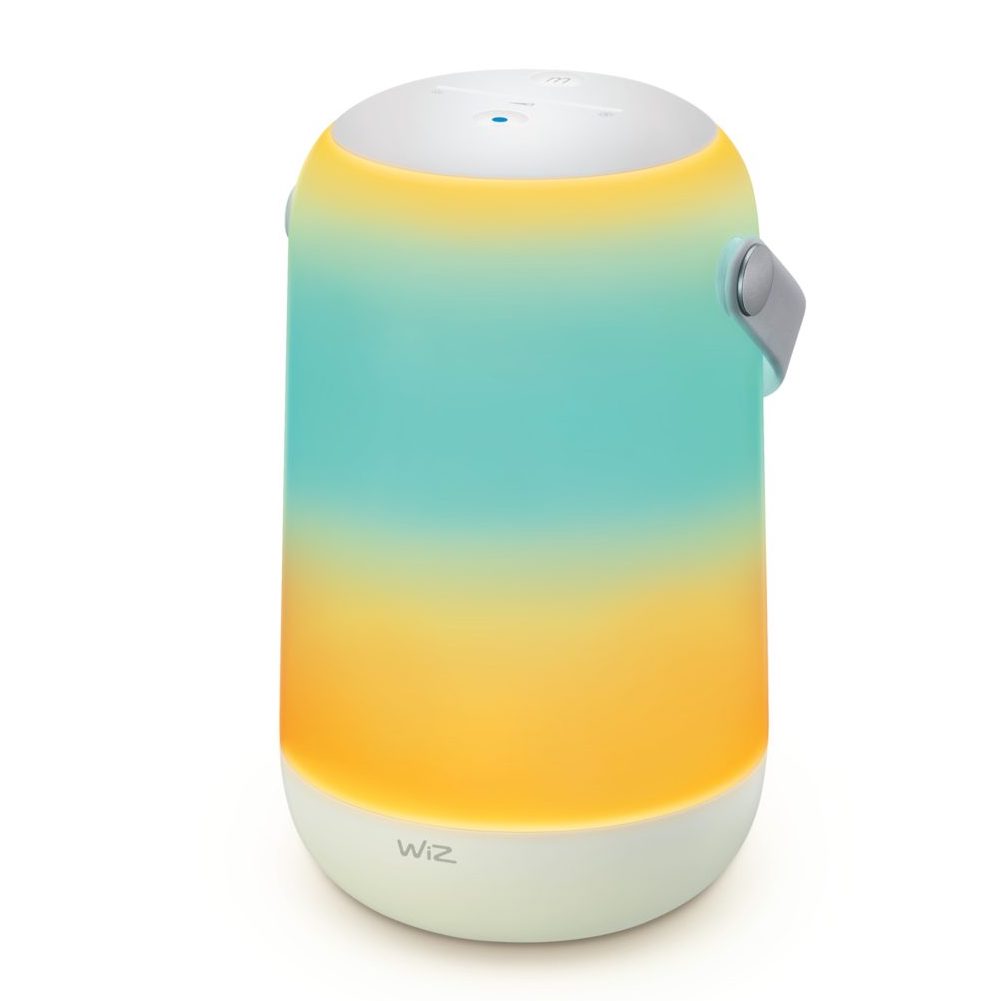 WiZ Luminaire Mobile Portable Light
Bottom line: A super smart portable lantern that's great for an on-the-go glow.


[ad_2]

Source link